WHAT IS MATCHA?
MATCHA IS PURE GREEN TEA LEAVES SPECIALLY GROWN AND STONE GROUND INTO A FINE GREEN POWDER.
HOW IS MATCHA DIFFERENT TO REGULAR GREEN TEA?
With regular green tea, you steep the tea leaves in boiling water and only consume what is extracted. By consuming only what is extracted, not only are you missing out on the many nutritional benefits found in the tea leaf but the process of boiling the leaves has also been found to destroy nutrients.
With matcha, you are consuming the whole tea leaf. Matcha is a concentrated form of green tea and top tier matcha (ceremonial grade) contains 10 x the nutrients of regular green tea*.
Matcha is also different from regular green tea in that it comes from tencha leaves. Tencha leaves are green tea leaves that have gone through a shading and de-stemming process. Matcha Ninja tencha leaves are shade-grown for three weeks before harvest, and our stems and veins are removed in the processing. This process increases the chlorophyll and antioxidant content of the leaf and also removes bitterness in order to make the best tasting matcha without having to add anything.
WHAT ARE THE HEALTH BENEFITS OF MATCHA?
CLICK ON EACH OF THE BELOW BENEFITS TO LEARN MORE:
+

3 X THE ANTIOXIDANTS OF THE HIGHEST QUALITY GREEN TEA
There are claims being thrown around that matcha has up to "137 times" the antioxidants of green tea. It should be noted that the study this figure comes from at the University of Colorado was comparing matcha with an incredibly low quality green tea used at Starbucks. But, when you compare the highest quality matcha to the highest quality loose leaf green tea the results show a minimum of 3 times the levels of the powerful antioxidant known as epigallocatechin gallate (or EGCG for short). A study published in Aging Cell concluded that EGCG is capable of "suppressing, slowing down, and reversing the process of carcinogenesis". This has been linked to the reduction of tumor size and the prevention of cancer forming in the first place.
+

BURN FAT FASTER
Two studies, published in Molecular Nutrition & Food Research and The Journal of the American College of Nutrition found that the compounds in matcha (mainly EGCG) had "anti-obesity properties" and "metabolic health benefits". Another study from the American Society for Clinical Nutrition found that oxidisation (burning) of fat occurs at a faster rate in subjects that consume matcha.
+

IMPROVED MEMORY AND FOCUS
A study published in the Journal of Herbal Pharmacotherapy found that the amino acid, L-theanine, in matcha "improved cognitive processing" and "increases the secretion of dopamine and serotonin" which has the remarkable ability to keep you focused and make you feel happier. According to a study from Northumbria University, the combination of L-theanine and caffeine "led to faster simple reaction time, faster numeric working memory reaction time and improved sentence verification accuracy."
+

NATURAL ENERGY BOOST THAT KEEPS YOU ALERT BUT CALM
With a quarter the caffeine of a regular cup of coffee, Matcha Ninja gives you the energy boost you seek without the "caffeine jitters" or the infamous coffee comedown. The amino acid L-theanine in matcha is why matcha drinkers all over the world will tell you the slow-releasing energy helps them remain alert but calm, unlike coffee. This "alert but calm" feeling is perfect for a workout, a busy day, meditation and just about any daily activity. In fact, Buddhist monka have been drinking matcha for thousands of years as an aid to their meditation practice.
+

IMPROVES YOUR IMMUNE SYSTEM
This one is true of most teas, not just matcha. The antioxidants in tea can act as natural antibiotics, boosting your immune system. A study published in the Proceedings of the National Academy of Sciences found that tea can "provide natural resistance to microbial infections and perhaps tumors." Matcha has very high levels of antioxidants and these can help your body defend against sickness and disease.
+

HELPS YOU TO DE-STRESS
The L-theanine in matcha acts as a calming and de-stressing agent. It allows your body to relax while remaining focused and alert. So, next time you're all stressed or wound-up, reach for the matcha and feel that stress begin to float away.
* SCIENTIFIC REFERENCE: 2003 Determination of catechins in matcha green tea, Department of Chemistry, University of Colorado at Colorado Springs.
WHAT MAKES MATCHA NINJA SO SPECIAL?
WE MAKE A SUPERIOR MATCHA BY FOCUSING ON THREE ISSUES:
Traditional matcha has a bitter flavour. It can have a grainy and chalky texture.
Matcha Ninja is naturally non-bitter and very smooth. It is unsweetened with zero additives.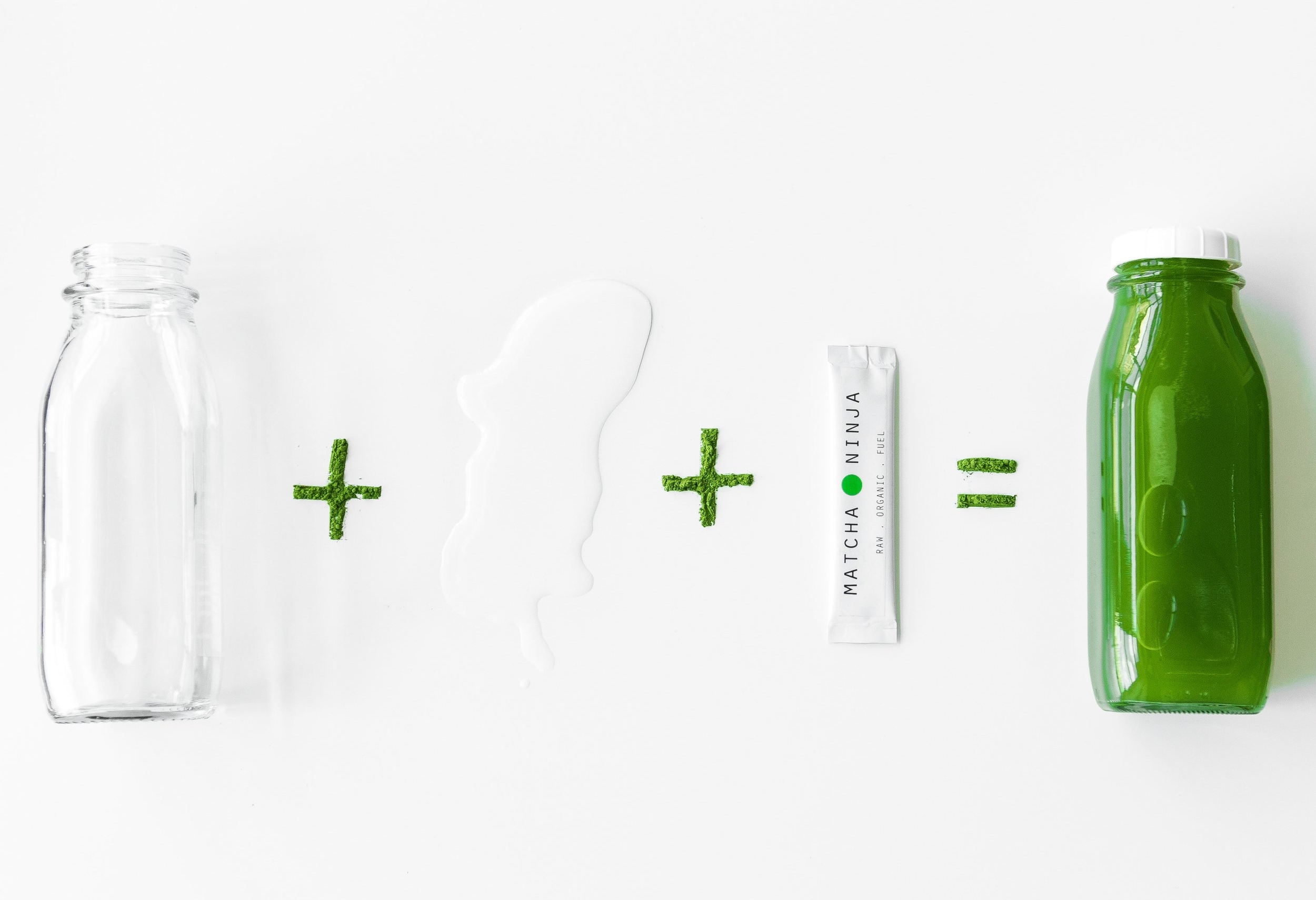 Traditional matcha takes time to prepare. It requires warm water and a whisk to break it down - even then clumps can remain.
Matcha Ninja is easy to use because it is super soluble in cold/warm water, just add it to your water bottle. shake and go. No whisk needed.
Low quality matcha may carry high pesticide, heavy metal and radiation risk. Some matcha is diluted with sugar, fibre and other additives to improve flavour and texture.
Matcha Ninja is 100% organic matcha and each batch is independently tested for heavy metals, pesticides and radiation.
HOW IS MATCHA NINJA MADE?
THE FARM TO CUP JOURNEY:
1. Grown on organic farms
We grow our green tea leaves on our USDA certified organic farms.
2. Shaded for added nutrients
Before the leaves are harvested in the Spring they are shaded under giant canopies for 30 days. This increases their chlorophyll & antioxidant content.
3. Only the best are selected
All leaves are inspected and only the finest ones are selected.
4. Baby leaves are selected for sweetness
We use the baby leaves as they are naturally sweeter and have a better flavour.
5. Leaves are steamed and dried
These leaves are then steamed and dried.
6. The best dried leaves are selected
We then select the best of the dried leaves - the cream of the crop.
7. Stem & vein removed for smooth flavour
Next, we extract the stem and centre vein out of each of these leaves so our matcha tastes super smooth and we don't have to add any additional ingredients / sugar.
Then we grind the leaves (tencha leaves) into powder.
After the grind we sieve the powder to ensure there are no clumps.
10. USDA 100% organic certified
A Certificate of Analysis is produced by CERES organic agency to deem each batch of Matcha Ninja 100% organic.
11. Flat packed for freshness
Pouches of Matcha Ninja are then filled up. To keep things fresh we flat pack each pouch so there is no air inside.
12. Ready to matcha like a ninja!
Your Matcha Ninja is ready for consumption. Drink or eat and experience the many nutritional benefits.
ready for some matcha goodness?